Beautiful old Luna in her fine bowl. She's almost 21 years old. That's 147 in cat years. She was born in Springfield Mo. and has traveled a lot including to Florida where she was with me when Nik was born :)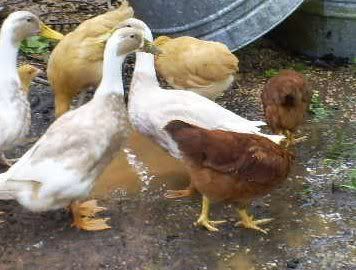 Ruby, the Rhode Island Red who's very possibly a Banty. I'll try to get a better picture but her head never stays up long enough. The reason I think she may be a banty is that the other chicks are outgrowing her but she already has a nice comb and they don't. Her body also looks more hen-like while the others still look chickish.
They've all gathered round to see what happened to the pond.
We redid the pond again. This was the original pond but when we no longer had a duck I thought the kiddie pool would be a nice pond. Now the ducks get into each day and muck it up terribly, plus I was afraid they would eat Archimedes' new harem of 6 tiny goldfish.
So we changed the ponds back and now the horse trough is the pond again. I would actually love to have an old bathtub for a pond, like my friend Peggys :)
By the time we were done my back ached tho Nik did more work then i did on it. It looks so nice and fits better in the spot then the other. It's between two clotheslines and before it was difficult to use one of them. Now I can get to both with ease :)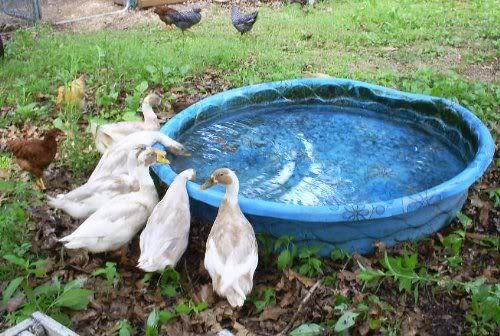 And the ducks are most happy to have the big pond all to themselves. They have a very small one but this is the good stuff :)
The path down to the secret blackberry bushes :)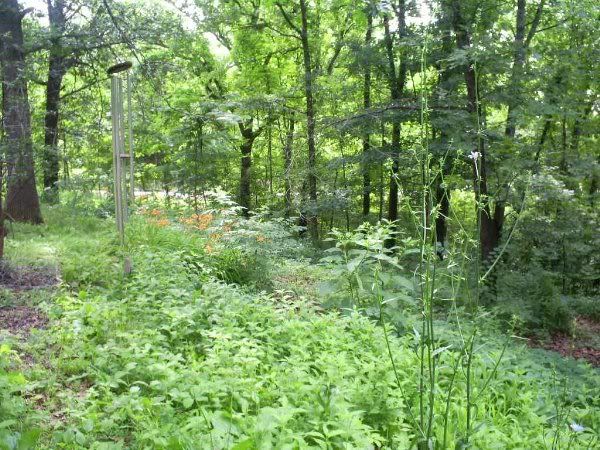 The slope that seperates the main yard and the lower yard. the lower yard is what will become the cow or goat pen.
The poultry people tired from a long days work.
Little Oded waiting to be fed with Star in the back worried about him. She worries about all the kittens tho.

I took him out in the sun for awhile today and he actually played and jumped on his brothers. I had to stop him for fear he would hurt himself. He spent about an hour outside, much of that lounging in the dappled sunlight on the hammock with me :)
Odi eating some healing paste made with cooked beef, kitten milk replacer, echinacea, kitten vitemins, egg, yeast and garlic.