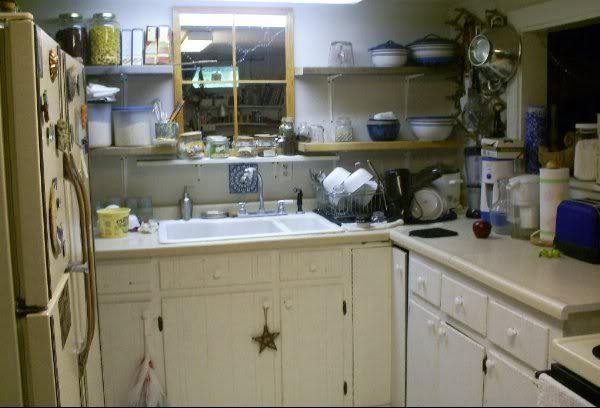 The kitchen ... tiny but greatly loved and well used. We've made great feasts here and fed well over a dozen people at one time. Here we bake breads and cookies and cakes, roast huge turkeys and great hams, make big mountain skillets of eggs and potatoes with fresh onions and peppers from the garden.

The kitchen is also a healing place, the Burrows Apothecary, where medicines are made and cures are conjured. It's also a creative place and houses a whole artist studio. And, when Nik was little, the kitchen was a part of our ballroom where we danced often and wildly.

I've often heard that most people call the living room the heart of the home but, I surely believe that our whole house is the heart of our home and the love and life within it, is the hearth round which we are warmed.






I'm sure it may seem cramped but every bit of space is used carefully. Things must be well thought out because there's so little room for rearranging. Tho I'm somehow able to do it more often then one might expect :)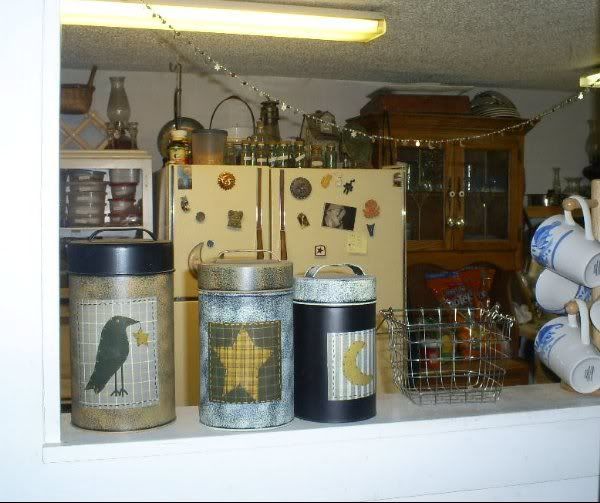 The view of the kitchen from the livingroom. The tops of the Hoosier, fridge and china cabinets are also well used and carefully organized, tho it may not seem so.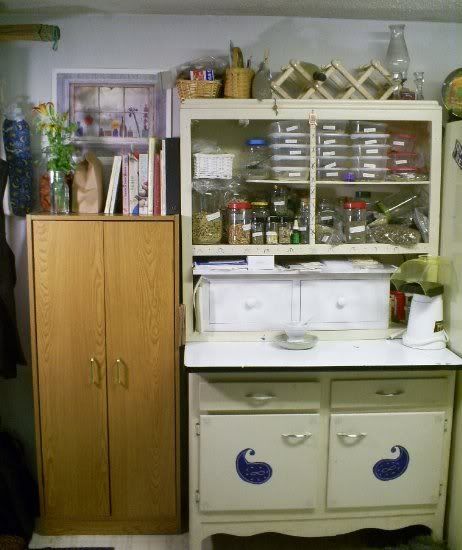 The Burrow Apothecary and my beloved Great Grandmothers Hoosier. This is where I do all the dry mixing and blending of herbs and medicines for teas, ointments, salves, syrups, soaps, candles, waters, and on and on. I do the actual wet making on the kitchen counter, near the stove and sink.
The bottom of the Hoosier is for pots and pans and the little cabinet beside it is the pantry for canned goods.
The Hoosier was my Great Grandmothers, Lily. I don't remember her very well, she crossed over when I was very young and my only real memory of her is of brushing her long hair. They tell me she was full Cherokee (my mother was adopted by her daughter) and as I recall, she almost never spoke. I was very shy then myself and only spoke to my sisters and mother. She had a special chair that she would sit in each day and she would drape her long hair over the back of the chair. I would sneak in and sit on the floor behind her to look at it. One day she reached her hand behind the chair and it held a brush, I took it and began brushing. Small timid strokes at first, I was always in trouble as a child, I never understood what people wanted of me. But without a word, we seemed to understand one another and soon the small strokes became long and slow and with each one, the silvery white hair became silken threads, and I soon drifted elsewhere. Where, I cannot, and will not say.
Many years later I found this Hoosier while cleaning my grandmothers barn. It was filthy and broken. I asked for it and after a little to-do I was given it because it would be cheaper then hauling it to the dump. It is a great jewel to me in many ways. I can feel it's energy and the energy of the woman with silken hair and once touched it daily. I can feel every one of it's over 100 years and each of those a precious stone in the fine crown of memories, that is the Hoosier.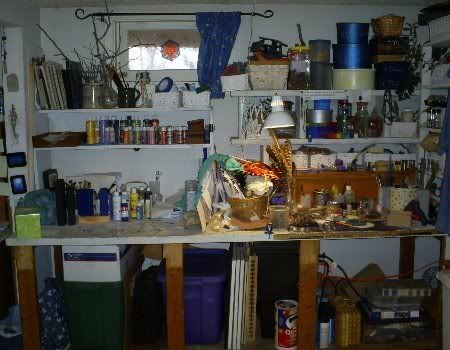 This is the studio side of the kitchen. It's an older picture then the others and is a tiny bit different now. For one thing, the drying racks that used to hang above the Hoosier are now hanging mainly above the work table. They're used for herbs and also to dry bits and pieces for the juju dolls.
It looks very messy but I know where almost everything is :)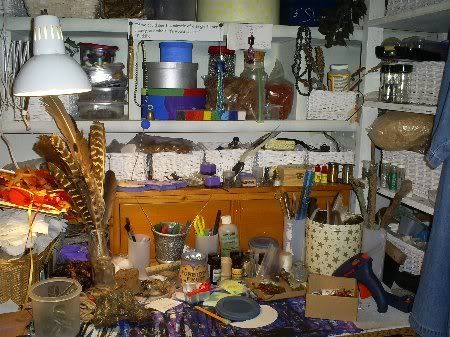 This is the juju side where I make the juju dolls, rag dolls and many other things. I also work clay here or sometimes on the kitchen counter.






And this is the painting side. I have an easel but I actually find it easier to paint with the canvas laying flat. I think I once measured and the free area there measures around 18 inches, yet magically, I have been able to paint much larger canvases there :)



..