The living area. Futon cover and curtains are made from sheets. The pillows are handmade. The white shelf was made for me by a friend from reclaimed lumber. I started it with white but it's not finished yet. The cat perch in the right was gotten at a yard sale about 4 years ago for 15.00, I later saw the exact same one for sale thru a pet store for 500.00.
Opposite view of the livingroom area. The TV cabinet will also be painted soon. The Burrow is small and dark (mostly in the ground) so the larger pieces that aren't antiques are going white. Some will go a little whimsical as well :)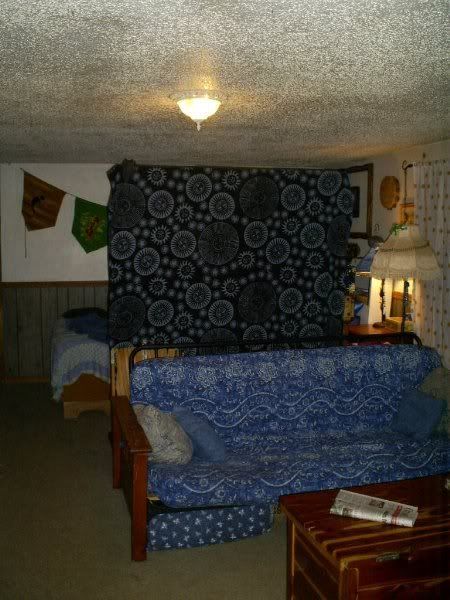 The screen that separates the living area from my bedroom area. It's actually just a tapestry sheet on an old, destroyed shoji screen. The screen frame is still in fairly good condition and eventually I'll remake it into a dressing screen, likely with reused sheets.
Also a good view of the terrible popcorn ceilings. I'm not sure why anyone ever thought that was a good idea but I'm sure it seemed like one at the time. One of my greatest wishes for this place is to remove the popcorn and the creepy carpeting and remove (or paint like wainscoting) the dark paneling. Someday, maybe :)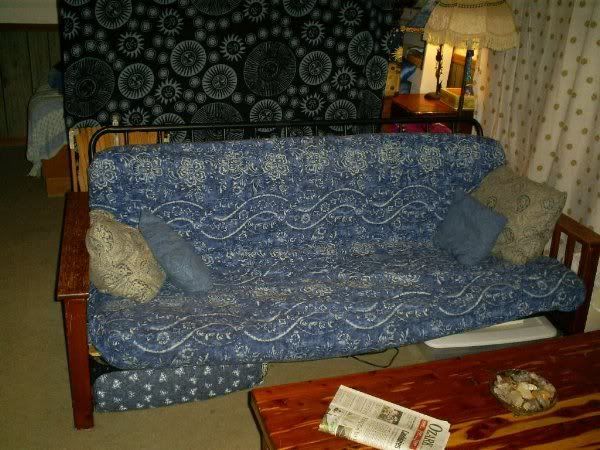 The Futon, in need of paint and I'll hopefully get to it soon. I've had it for over 10 years and it's paid for itself many times over by being as fair a place to sleep as it is to sit and read, sew, bead or watch a movie. The cover is just a sheet, easy to change and remove to wash. In winter I have a flannel sheet for a cover. To make it more comfortable to sit and sleep on I had two pieces of wood cut to fit. As a couch, both pieces of wood are under the seat. As a bed, one piece of wood can be slid over to cover the other side. It is hard but much better then the floor or metal bars pressing thru.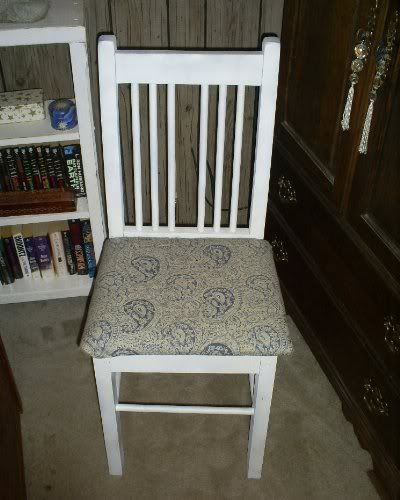 A chair in flux. This is part of a set that came painted black with southwestern seat covers. Very nice if that's your thing. This is the first but eventually the whole set will be painted and the seats recovered in the beige materiel with blue paisleys. I haven't decided on the chair colors yet, either all white or each a different color taken from the fabric and the other colors in the house. The table itself will likely go white.